A year ago, HuMatLab director DK Osseo-Asare served as architect for Ghana's second-ever national pavilion at the Venice Biennale in 2022, after Sir David Adjaye's 2019 debut, both curated by Nana Oforiatta Ayim. The exhibition architecture utilized the fufuzela building system. Under development over multiple years prior to our 2019 MoMA PS1 Young Architects Program finalist proposal, this approach to biomaterial symbiosis anchored the text "Architecture" authored for the Report of the Presidential Committee on Ghana's Museums and Cultural Heritage, "What is Fufuzela? Futuring the Pan-African Museum" (2021). Digital and physical works by Ghanaian artists Afroscope and Na Chainkua Reindorf were installed in a building of the Arsenale that is now under renovation, affixed to structural elements of fufuzela that reassembled in Italy to prototype the curator's vision of a mobile museum ecosystem, after hosting a previous international art exhibition in Germany on restitution.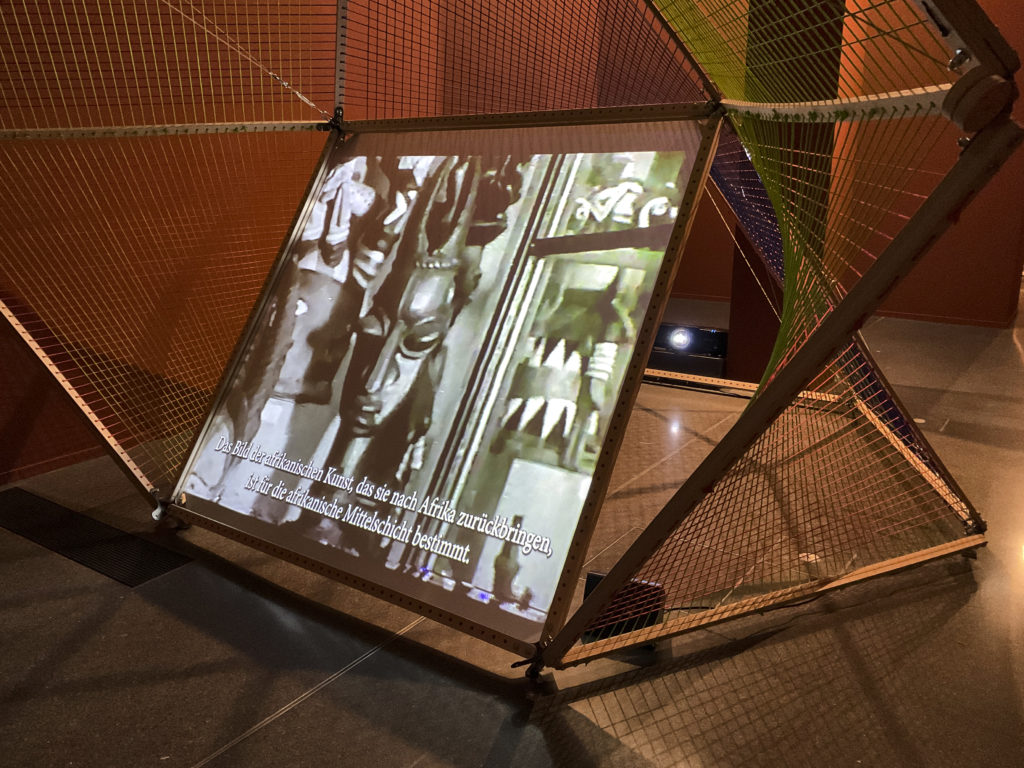 Now in 2023, these same structural elements are reincorporated into LowDO's bio-digital installation, "Enviromolecular," part of the Dangerous Liaisons section of 18th Venice Architecture Biennale, by invitation of the curator, Dame Lesley Lokko, bearing testament to her call for decarbonization and the decolonization of architecture. The call asked us to reflect proactively on "The Laboratory of the Future." In response, we deployed in the Arsenale three fufuzela telling the story of AMP spacecraft, alongside twelve drawings showing the spherical mathematics by which we derive the primary two- and three-dimensional forms that make up the AMP build kit for "crafting space." The AMP initiative, i.e., the Agbogbloshie Makerspace Platform, is a cooperative future design project that we have been undertaking since 2012-2013 (see Publications).
Several key milestones were achieved in the spacecraft development, between the 59th International Venice Biennale last year and the 18th Venice Architecture Biennale this year. First, as explained above we demonstrated a material reutilization strategy wherein the physical components of the exhibition architecture were designed for use across multiple installations and venues. Second, we integrated the underlying geometrical formulation of the fufuzela "bambot" para-structure and the deployable kiosk microarchitecture typically referred to as "AMP spacecraft" into the same three-dimensional matrix system of coordination. This grid combines the typographic "point", the millimeter, centimeter and decimeter into a rotational "square" fractal array. Manipulation of this grid can describe beats and rhythm, as well as chords and tonal harmony.
Third, the trio of fufuzela "telling the story of the AMP spacecraft" on two digital rear-projection screens instantiate a higher degree of immersion viz. a situated "hyperportal" than previous iterations (Nantes, Dortmund, and Venice), building on design research explored by engineering design graduate students during the Design for Open Innovation course taught in collaboration between Penn State's College of Engineering and the Princeton School of Architecture.